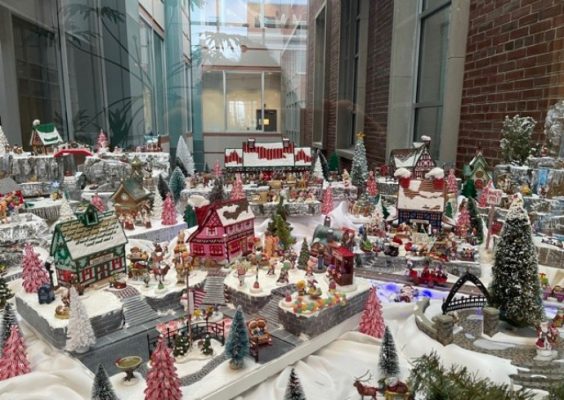 Winter Village brings magic to Falk College
Central New York is renowned for its snow-capped hills and quaint towns that herald the holiday season. But who would expect to find one of the cutest villages – in miniature – tucked away in a nook on the fourth floor of Falk College of Sport and Human Dynamics in White Hall?
The whimsical North Pole community, dotted with candy canes and mischievous elves, has amenities ranging from the required post office to a ski resort and a beach with docks. The exhibit features dozens of evergreen trees, a frozen waterfall and a skating pond, not to mention hundreds of people, snowmen, reindeer and various modes of transportation to transport them from one end of this mountain to the other. winter wonderland. There's even a section of Syracuse University, where the characters are dressed in orange and blue college clothes.
The village is lovingly created and curated by Dianne Seeley, who has been collecting coins for almost 50 years. Seeley is the Director of Operations, Space and Facilities for Falk College and the Director of Kitchen Operations, and has held several positions within Falk and the University since 2007.
"What I like best are the looks on people's faces, especially children," Seeley says.
An impressed student suggested that the only thing missing was a zipline for the elves. Maybe it'll be on Seeley's Christmas list for next year.
Seeley's seasonal exhibit began with a handful of homes his mother built for him in 1977 from canvas and plastic wire and has grown over the years as family, friends, students and colleagues added to his collection.
The Santa Lucia figurine was a gift from a Swedish student, and the contractor she worked with on the stadium's new roof sent her a miniature version of the gigantic German crane used for the project.
Seeley says his favorite items in the village are an elven figure washing a reindeer his children gave him.
Some of his fondest memories are linked to the Christmas village. For decades, she and her sister each bought two new elves per year, one for their own village and one to give to the other. Seeley's sister passed away four years ago, bringing a bittersweet end to a heartfelt holiday tradition.
For several years after moving to Syracuse, his Christmas village remained in reserve. But in 2015, she brought a few homes to work to brighten up her office on the fifth floor of White Hall.
People loved the little village and every year she would take a few more boxes out of storage. He's outgrown his desk. For the past two years, Seeley has installed the display in a conference room, where she has invited adults and children to view and touch all the rooms.
"One of the best things about the conference room was that everyone could walk around and see all the details of the village up close," Seeley said.
Behind the glass, visitors can look but not touch, but many more people can enjoy it.
Setting up the elaborate signage was not easy. Powered by 198 AAA batteries, Seeley took over 20 hours to assemble, spread over two Saturdays and a week in the early morning before work.
Over the years, Seeley has added personal touches. A Golf Game features a ranking with golfers from the faculty of Falk College, including Assistant Dean David Salanger; the winners of the fun race are his grandchildren; and the art store, Maddie's, is named after her granddaughter, a 15-year-old jewelry designer.
This labor of love reflects the creativity of Dianne Seeley throughout.
Seeking a distraction as she underwent chemotherapy treatment in her battle with cancer several years ago, Seeley turned to the Holiday Village. She handcrafted many supports, gluing together layers of foam which she then carved with a paring knife and painted. The waterfall was made of chilled hot glue strips, the resin skating pond, and the beach caulk and paint.
Seeley says it might be one of the last years for her Christmas Village on the University campus, as she plans to retire soon. So if you're looking for a vacation-inspired getaway without leaving campus, just take a stroll over the Falk College Bridge.
The Christmas Village is on display until January 7 and open to the public on the fourth floor deck of Falk College.