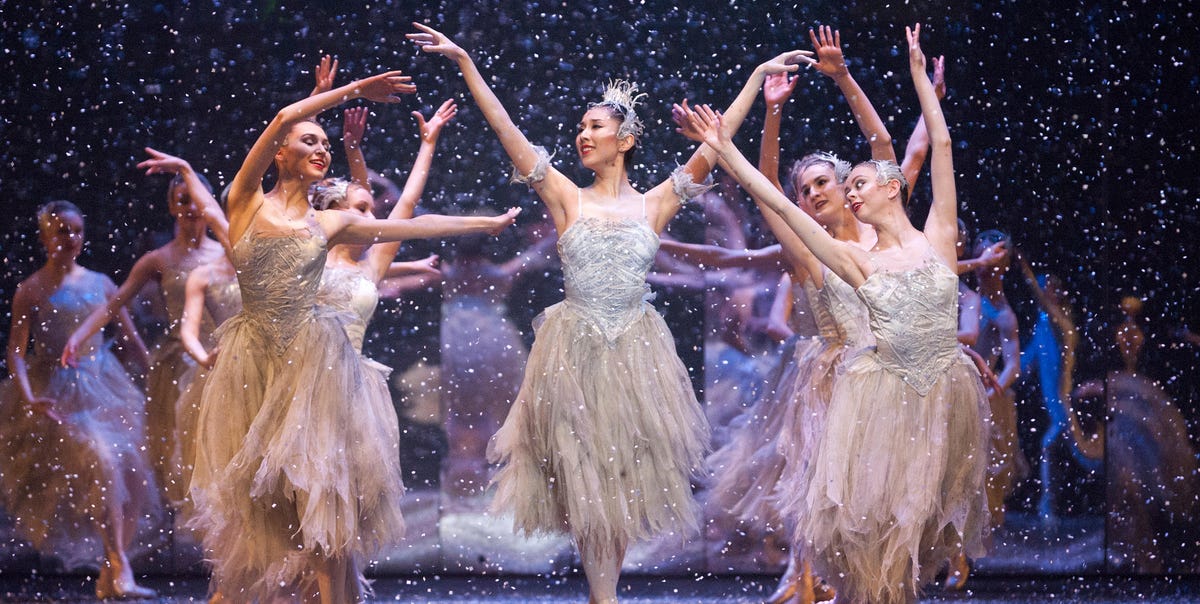 When Christmas brings visions of sugar plums and past lives
I was leaving the theater late, almost 11am, the last to come down from our dressing room at the top of a spiral staircase backstage. The stage was empty and dark except for the phantom light – the industry name for a single bulb left in the center of the stage. The other lighting fixtures, curtains and wings had been hoisted in the flies exposing bricks, large sets, thick ropes. I stopped just behind the phantom light, savoring the unusual loneliness of an empty theater.
I was 20 and danced in the annual month-long run of Nutcracker at the Pennsylvania Ballet. Rare moments of stillness like this punctuated the constant forward momentum. The young women of the company general Corps de ballet work the hardest, and the production depended on us. Every evening, we danced the emblematic steps of George Balanchine in the "Valse des flocons de neige" and the "Valse des fleurs". Both require the precision of the Rockettes and the endurance of the long-distance runners. On stage, we danced in clouds of pink tulle or jumped into blizzards of fake snow. Behind the scenes it was acupuncture and physical therapy, antibiotics for the infected blisters, and six Advil every two hours.
We danced 40 or more shows the Nutcracker by season: mornings and evenings shows on weekends and a show most evenings of the week.
We all became regulars at all the shops and cafes around the theater, and everyone in the area was buzzing with the excitement of Nutcracker season. After the Christmas or New Year's Eve shows, sisters and aunts crowded around the stage door, taking me for a hot meal and a glass of champagne at the nearby bistro.
In December 2013, I was recovering from the second of two invasive surgeries on the broken bones of my right foot. Four months earlier, I had learned to walk again. A month later, I was putting on pointe shoes for the first time and practicing to dance in Nutcracker. I came back strong. I was the only member of the troupe to dance "Flowers" in every show. And yet, with my foot barely recovered, the excitement, the exhaustion, the responsibility, everything seemed precarious to me.
I rather found a sense of permanence in the novels, going to the theater the Brothers Karamazov, Willa Cather's stories of opera singers in Chicago and the poetry of Frank O'Hara. Now I can see that the books have given me the freedom to think that dancing in the Corps de ballet generally discouraged. Dancers are constantly urged to sacrifice authentic style and expression for the homogeneity of the body, where dancers are rarely welcome to express their pain, opinions or ideas. Maybe that's why I found literature attractive; I was looking for a literal language to express myself.
Now I can see that quiet moment in the phantom light and see it for what it was. I had balanced two possible lives, and that balance began to change. Long before I was seriously injured, I graduated from Columbia. I started by completing my training at the School of American Ballet in New York. Today, it is common for dancers to earn a bachelor's degree in preparation for their "next life" offstage. But even just five and ten years ago, only a few of us took it seriously.
I retired from dance in my mid-twenties and am now a PhD student in English at Harvard. But I still take ballet lessons, now in a cavernous, converted church across from Harvard Yard, returning to the bar like a lost devotee on the bench. My body's own memory surprises me: my back flexes easily and my legs kick high. I am strong. "I could take a semester off and do the NutcrackerI found myself saying at English department parties. In 2020 everyone had to take time Nutcracker. Now, seeing my peers come back on stage almost makes me want to do it too.
This year a friend invited me to see him play in Nutcracker with the Miami City Ballet at Kennedy Center. Once again, I found myself at the Opera where I made my debut, at age 10, as party girl n ° 4 in the Joffrey Ballet's Nutcracker. Every time I had performed on this stage since, I would take a moment to greet the youngest ghost of myself dancing in the upper left corner, where I was once stationed for most of Joffrey's opening acts. Now, from the audience, I was still looking at this empty place. This little party girl with tight blonde curls stood in front of me fully formed, in a blue dress, cradling her doll, and I couldn't look away.
Like Nutcracker kept spinning, I thought about all the roles I had danced and every step that could go wrong, again feeling the professor's too hard hold on my slender arm as he mistreated me in the right positions . I just as well remember the triumph and ease with which my favorite partners and I immersed ourselves in difficult jumps and carries. Some form of poetic expression is possible on stage, as clear as anything I study on the page. Yet as I chatted with my Miami friends after their performance, I felt estranged from their world.
Now I spend the December days and nights that I used to spend on stage in a room that houses the English Department's book collection. It's up a spiral staircase on the top floor of Harvard's Widener Library. Here I often return to a book that was a favorite in graduate school, Nella Larson's Who passed. The opening scene is obscure and impressionistic: the main character sits down to have tea and sees a woman who looks strangely familiar. She observes him in pieces: red lips, soft dress, floral scent, the grace of a dancer. It is not known if she sees, in this strange doppelgänger, a version of herself or an obsession from the past. I slip into characters like this and move, elated, in their world, as if returning to a familiar role on stage.
I guess that's the problem with life-changing choices: sometimes you see the shadow of a self that could have been, following you like a ghost.
It's a type of beauty that I may never feel again. She looks confident but hardened, ready to take the stage for "Flowers" or "Sugar Plum", whatever role her career has taken her to. But that's her business, not mine, so I let her fall into the dark, knowing that all I can do now is rebuild my relationship with ballet in a healthier, happier way. It will mean redefining my relationship with Nutcracker, too much. Every year, like clockwork, there is a chance to find your way home.
Many nights in December I have descended the winding stairs, the last to leave the library. It is dark and a few lampposts light up the paths with a strange glow. Campus, at these times, is quiet, and my loneliness is filled with satisfaction.
This content is created and maintained by a third party, and uploaded to this page to help users provide their email addresses. You may be able to find more information about this and other similar content on piano.io