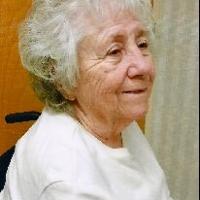 Theora A. "Doll" (Sager) Lapp | Obituary
Theora A. "Doll" (Sager) Lapp, 84, of Elizabethtown, passed away peacefully on Monday, June 13, 2022 at Susquehanna Valley Nursing & Rehabilitation Center, Columbia. Born on Monday September 6, 1937 in Lancaster, she was the daughter of the late Oliver and Grace (Risser) Sager. She was married to G. Roland Lapp Sr. for over 44 years until his death on Sunday, April 7, 2002.
Theora and Roland were huge country music fans and especially loved going to the Grand Ole Opry in Nashville. She also had a love for Boxer Dogs and had for many years.
The family had lived on Theora Drive in Elizabethtown since 1961, which is named after her by her father, Oliver. Theora and her husband Roland loved the courtyard of their home and took great care of the beautiful flower gardens. They also enjoyed sitting in the sun on their porch and chatting with the neighbors.
Theora was a stay-at-home mom raising four children. After the children grew up, she worked several part-time jobs, but always considered herself a housewife. Theora was a loving mother, grandmother, sister and friend to many.
She is survived by four children: Julie A. Shiner, married to Weems, of Nescopeck, PA, George R. Lapp, Jr. of Middletown, Robert J. Lapp, married to Erica, of Lancaster, and Anthony T. Lapp, of Elizabethville. Also survived are three grandchildren: Timothy Shiner and Devon and Nicole Lapp; two sisters: Fern Burrel, of Columbia and Shirl Bowers, of Elizabethtown. Besides her parents and her husband, she was predeceased by two brothers, Jerry and Melvin Sager.
A funeral service will be held at 11 a.m. Friday, June 17, 2022, at Miller-Finkenbinder Funeral Home & Crematory, 130 North Market Street, Elizabethtown, PA 17022, 717-367-1543. Interment will follow at Mount Tunnel Cemetery, Elizabethtown. A visitation will be held at the funeral home on Thursday from 5 to 7 p.m. and also from 10 a.m. until time of service on Friday.
Flowers will be received at the funeral home.
Memories and condolences can be shared at: www.FinkenbinderFamily.com