The Ultimate Guide to Gaming Tables – No Matter Your Budget
No matter what you're playing, here's an overview of all the gaming tables you've heard of and some you haven't.
~A table, a chair, a bowl of fruit and a violin; What else does a man need to be happy? – A. Einstein
Hello board gamers, miniature fanatics and CCG enthusiasts, Ryan here to meet all your furniture needs when it comes to playing at home or at a club. One of the things adults do when they reach a point where all their survival needs are satisfied is they start accumulating things that bring them joy and building spaces in which to hold those things.
No nerd office or living room is complete without a gaming table to sort out the intergalactic feuds of Warhammer or Star Wars Legion, or a table to dive deep into the dungeons of a D&D session. Just as a PC gamer wonders what video card to spend a paycheck on and what components will build their dream PC, the tabletop gamer can certainly do the same when it comes to the humble tabletop.
I wanted to explore some options, for anyone new to the more veteran Gygaxian looking to level up. I have a few ideas that can help you find a table that will be functional, beautiful, versatile, or dedicated to your favorite hobbies.
Game Table Metrics
First, a few things to look for:
Quality – Make sure that whatever you buy is a quality product that has had a decent review. In particular, look for items that are reviewed by people who are into your hobbies. Tables are usually purpose built with certain weight restrictions and lateral movement limitations. Also to consider, is this the last table you are going to buy for your hobby, or are you just getting started and still wondering if table hobbies are for you?
Objective – Is the table you are looking at going to be functionally appropriate for your hobby? If you are going to play Warhammer, is it big enough? Will it support boxes, bins, entire armies, and of course Titans and Battlemechs for sure? We've all seen someone drop a model, but the last thing you want is for the table to collapse and take a warlord with it. If you want to see a grown man cry, a shattered Titan will probably do it. If you play role-playing games or board games, do you need spaces to roll dice, cubes, screens or something special?
Price – We all have budgets, will your table fit yours? Are you looking for a long term solution for a lifetime of gaming or are you looking for something temporary or that just lets you set it up quickly and get a game started? If you're keeping it long term, does aesthetics matter?
Portability – Do you need to take it with you on the road?
1. Table toppers/pop-up tables
$50-200

The tabletop is a great choice for D&D gamers, epic board gamers, and tabletop generals who need space-constrained 6ft x 4ft dimensions in low-footprint homes. There are many options ranging from DIY to pre-made solutions.
---
2. DIY Game Tables $50 to $10,000

If you're a do-it-yourselfer and have basic home improvement tools like a drill, power screwdriver, and something like a miter box or scroll saw, there are plenty of plans online to make the process easier. . For those without tools, hardware stores like Lowes and Home Depot can cut wood for you for a nominal fee. Most of the plans I've seen come with a cut sheet that you can take right to the home improvement store and have the employees cut your wood.
Subscribe to our newsletter!
Get Tabletop, RPG and Pop Culture news straight to your inbox.
I've seen many awesome tables that are homemade creations, don't fall into the trap of assuming that because a table is DIY it's lesser. Here are some potential upgrades to consider when planning and building your own gaming table: cup holders, bottle openers, LED mood lighting and, of course, a flat screen monitor built into the table. for reference images, maps or short clips.

---
3. Just use your dining table Free (type of)
Many players got their start on the dining room table. It's familiar, stable and tested. He's been there for awkward holiday dinners with in-laws, minor surgeries, daily meals, and endless card games, board games, and, if they're old enough, Warhammer. The thing about dining tables is that they see action almost every day. So unless you live alone, it's hard to keep playing for an indefinite amount of time.
At some point, someone will come and ask you to take off your nerd gear so they can eat or host a meal. Get at least one tabletop game mat. If you play Warhammer or other tabletop war games, there are plenty of companies that print great looking neoprene mats with every imaginable ecosystem, space station or hellscape to give your games even more immersion. Your wives, girlfriends, mothers, and boyfriends will be grateful that their dining table won't get scratched and stained as you roll dice and push miniatures across their carefully polished table.
---
4. IKEA Semi-DIY Tables
$750

The IKEA hack has been around since I was in college in 2007 and way before that. It's really like taking an IKEA product and converting it for a different use. The most common I've seen is the 2 Kallax 2×4 and 1 Kallax 2×2 with 2 solid wood table slabs fixed on top. It's not just an EZ solution but provides ample storage space under the table for storing board games, terrain, miniatures, books, etc.
---
2×4 basics
$250

2×4 Basics creates a series of sturdy injection molded plastic legs that have slots for 2×4 lumber. While the original intent of these kits was to build a workbench, they make excellent wargame tables from table. They're slightly taller than your average table and incredibly stable. I think with the recommended lumber and plywood they can support almost 2000 lbs. More than enough tolerance even for the largest collections.
This is the solution I chose to use for my table at home. I got some finish plywood for the top and even stained it to make it look a little nicer. On the second shelf I didn't run the full length of the table, I created a half shelf for army storage and a double height shelf for terrain, plastic bins and other stackables .
---
5. Multi-purpose tables
$500-5000

There are a variety of manufacturers that build tables with a sunken well that allows you to remove the boards that make up the table to access a box 4 to 6 inches deep. It's ideal for storing your flatter tabletop games, board games, or dungeon crawls.
You can also save your place by placing the boards on the board on the table, eating, then quickly returning to the game by removing the boards from the table. I've seen varieties that come in the form of a table top, coffee table, or dining table. Your hobby will dictate the space you need and this will determine if this solution is reasonable for your family.
---
6. Dedicated Game Table
$250-10,000

The creme de la creme of gaming tables. Perhaps you have a room, basement, attic or garage bay dedicated to your hobby and so you can leave your land, games and miniatures play anytime. Now, a dedicated gaming table with a permanent presence is not only potentially very expensive, but you also have to consider space. If you're already short on space, a dedicated table that takes up 24 to 32 square feet is a big space investment that may not serve you well. You are essentially installing a pool table in your home. If you don't actively play every week or your group meets at a local store, the chances of you using a dedicated table are low.
However, if you're a frequent gamer with space, who has people coming in and out of your home for RPGs, tabletop wargaming, or epic board games, a large table is a smart buy where you can make great memories for years. The range here is large, but I'd say at a minimum a DIY table built from the 2×4 basics will probably cost around $250. From there the sky is the limit, maybe a custom solution to fit a certain space is a requirement, or maybe it needs to double as a dining table.
---
7. Whatever the table on Facebook Marketplace

$Happy hunting!

If you are budget conscious, consider checking out some of the online classifieds. Consider looking for things like conference room tables, office furniture, drafting tables, dining tables, and even the IKEA furniture you'd need to put together your own solution. Sometimes you will even score a specially designed game table with a lot of work. With so many offices transitioning to remote working, now is a great time to shop for quality used furniture. Consider recycling a beloved table or redoing it yourself for additional savings.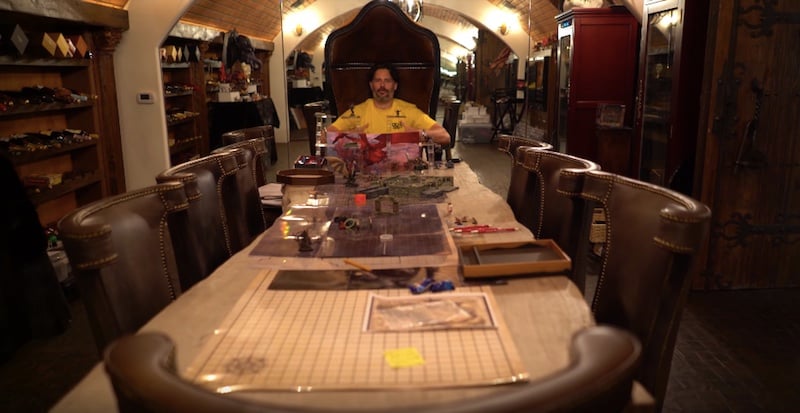 Joe Manganiello's Gamer Dungeon is a goal!
Good game and shop till you drop!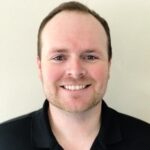 Ryan is a California boy at heart who uprooted himself in 2012 and found a whole world of friends and community in Austin, Texas through tabletop gaming. He has been playing RPGs, Warhammer, D&D and a variety of board games and tabletop games since 2000. His most recent interest and obsession has been Horus Heresy and painting legions of miniatures. Ryan is an accomplished painter and always has something in the works.