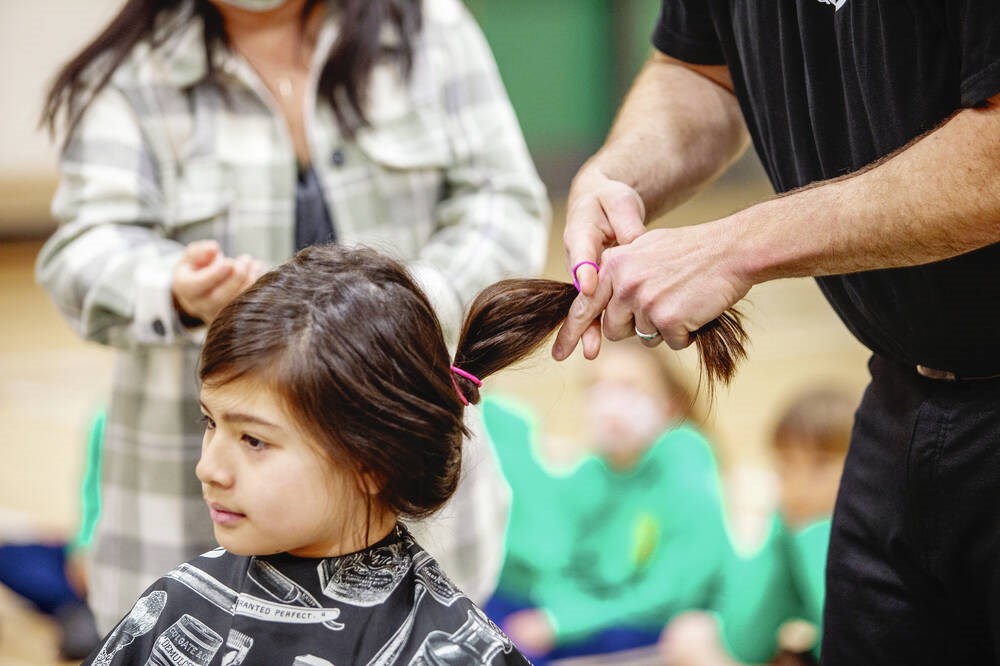 Our Community: Shaved Boys' Highlights for Children with Cancer
Thomas Joe, 12, got his first haircut in 30 months last week, with his 24-inch locks to be donated and made into wigs for children with cancer. Thomas, who is in 6th grade at St.
Thomas Joe, 12, got his first haircut in 30 months last week, with his 24-inch locks to be donated and made into wigs for children with cancer.
Thomas, who is in 6th grade at St. Patrick's Elementary School, has voluntarily given up cutting his hair since October 2019.
He had his hair cut in a school ceremony on Wednesday.
Thomas also launched a personal call page on the BC Cancer Foundation website. As of Wednesday, donations had surpassed its fundraising goal of $10,000.
"All four of my grandparents were killed by cancer and a student at my school died of cancer at the age of six," Thomas' appeal page reads. "I know that my efforts and the amount of money I raise will not cure cancer. But I hope others will see what I do and do the same.
"I hope that together we can make a difference so that generations of children after mine don't lose loved ones the same way I did."
Thomas is the son of estate agent Tony Joe and Susan Froher, who are "absolutely proud" of their son's initiative, which they said came on his own.
"After he told us his intention, all I suggested was that he think more than his original goal of $800," Tony Joe said.
"I think he's really looking forward to being bald. I told him people were going to ask him, 'What the hell is that? and that will invite a conversation about why he the fact and work of the BC Cancer Foundation.
Thomas had his head shaved by Burt Hill, owner of Burt's Barbershop in Oak Bay.
The hair will be donated to Wigs for Kids BC, a program that provides free, custom-made human hair wigs to children who have lost their hair due to cancer treatment or other illnesses. Each wig costs around $600 to $700 to make. The basic program accepts hair that is at least 10 inches long and submitted within three months of the date of its cut. Hair should not be dyed, permed or chemically treated. It should be tied at the top and not braided.
Inauguration of a women's shelter
The Anawim Companions Society has officially opened a new women's house in Victoria.
The house will include seven private bedrooms with partial bathrooms, a shared kitchen and common living areas.
"There are women's shelters in Victoria, but maybe not a home like ours that also offers one-on-one one-on-one support, meeting the person where they are," said Dan Greco, president of the Anawim Companions Society.
"We strongly believe that reproducing a family atmosphere, while promoting connection, can best help the person regain their confidence to live their best life."
The project was started by the donation of a property by a benefactor. Aryze Development helped the company navigate the rezoning and permitting process.
The Women's House follows the success of the Men's House, which opened in 1991.
Anawim has also received additional support from the City of Victoria Housing Reserve Fund, the Carole and Clint Forster Foundation of the Victoria Foundation, the Sisters of St. Ann, building suppliers, churches and countless other donors.
The construction should last between 9 and 12 months.
Volunteers needed for the annual bat count in British Columbia
Citizen science volunteers are needed to participate in BC's annual bat count in June.
The program, organized by the BC Community Bat Program, encourages residents to count bats at local roost sites.
British Columbia's bats, including Little Brown Myotis, return to their summer roosts in buildings and bat boxes. All bats are an essential part of the ecosystem, consuming many harmful insects every night.
"Counts are a wonderful way for people to get out, learn about bats, and get involved in gathering important scientific information," said Danielle Buckle, coordinator of the South Island Community Bat Program. .
Volunteers wait outside a known roosting site – such as a bat box, barn or attic – and count the bats as they fly off at dusk. A guano sample can also be sent to identify the species.
The data helps biologists understand the distribution of bats and monitor the effects of white-nose syndrome, a fungal disease that kills bats but not other animals or humans.
The BC Community Bat Program is funded by the Habitat Conservation Trust Foundation, the Forest Enhancement Society of BC, the Habitat Stewardship Program, with support from the BC Conservation Foundation and the Province of British Columbia.
To volunteer, go to bcbats.ca/get-involved/counting-bats.
Dog Art Exhibit Raises Money for SPCA
Artist Tanya Bub is curating Art for Dogs, an equal parts art, entertainment and fundraising exhibition for the BC SPCA, through May 29 at the Gage Gallery.
The idea for the show, which features driftwood sculptures of dogs, came from seeing dogs react to his canine-themed work.
"They know it's not real and yet some dogs have a very strong reaction to art," she said.
The delightful fact that some dogs enjoy looking at art, just like people do, made her want to do something for dogs.
The show features an outdoor exhibit where people are encouraged to take and share photos of their dogs with the artwork.
Inside there is a Dog Park exhibit of around 30 miniature sculptures of people and playing dogs, an Air Dog series with sculptures of dogs in action, life-size driftwood portraits of the dogs hard to place SPCA's, collage pet portraits and wildlife sculptures.
Bub will donate 25% of the show's proceeds to the BC SPCA.
Free entry. The exhibition runs from 11 a.m. to 5 p.m. Tuesday through Saturday and from noon to 4 p.m. Sunday through May 29 at the Gage Gallery, 19 Bastion Sq.
Pickeball players help Ukrainian war refugees
Anna Edgar and Pete Korvin of the Nanaimo Pickleball Club are hosting a charity tournament, with all proceeds going to UNHCR, the UN Refugee Agency, to support its work in Ukraine.
The mixed doubles tournament will take place on June 4 (June 5 if it rains) at the Pacific Shores Resort in Nanoose Bay. Medals will be awarded to the top three teams at each level.
Registration is $90 per team (plus a processing fee of approximately $4). The tournament runs from 10 a.m. to 5 p.m. Pacific Shores is at 1600 Stroulger Rd., Nanoose Bay.
For more information or to register, go to nanaimickleball.org.