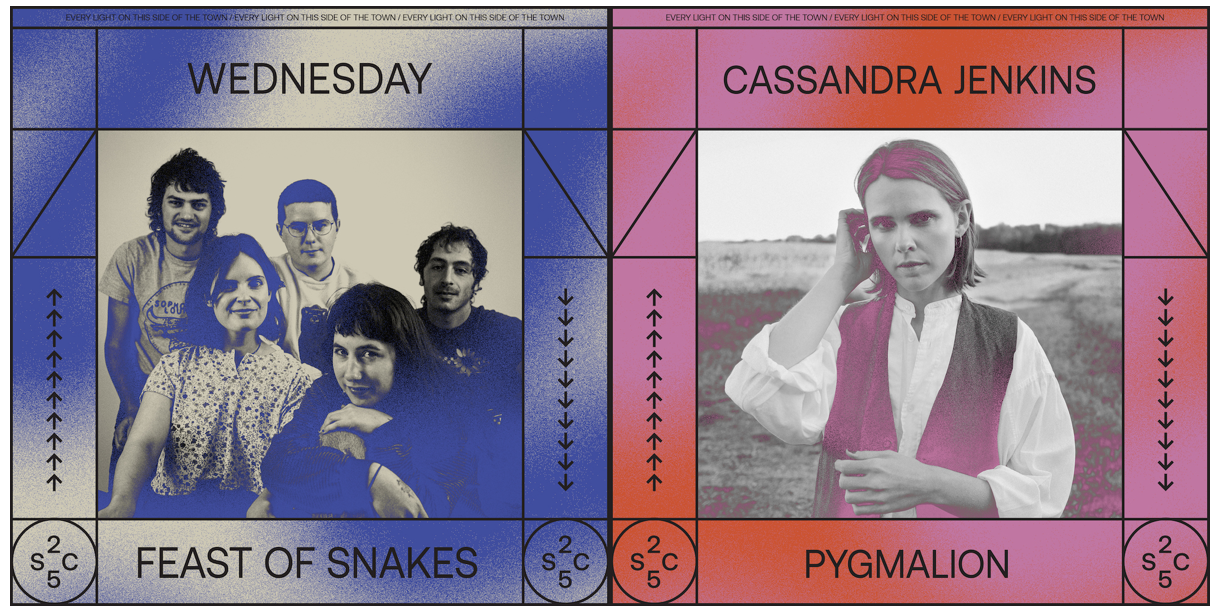 Listen to brand new songs from Wednesday and Cassandra Jenkins, now available in honor of Secretly Canadian's 25th anniversary:
Listen to all-new songs from Wednesday and Cassandra Jenkins, now available in honor of Secretly Canadian's 25th anniversary
Last installments of SC25 Single In addition to the label's fight against homelessness, all net proceeds benefit New Hope for Bloomington Families: MAKE A DONATION
Today, Secretly Canadian accommodate both Wednesday and Cassandra Jenkins in its growing community of friends and associates who over the past year have come together and supported a mission to end homelessness for families in Bloomington, Indiana. As part of record label's sprawling expansion 25th anniversary campaign, each artist contributed a brand new original song to the charity series of SC25 Single. All of Wednesday's net proceeds and previously unreleased tracks from Jenkins will benefit Secretly Canadian's $250,000 fundraising goal for the Bloomington-based institution and a gender-neutral emergency housing solution, New hope for families.
to listen Wednesday "Snake Party", which, as Karly Hartzman of the hauntingly loud rock band from North Carolina explains, was inspired by the music of Secretly Canadian training artist Jason Molina. Hartzman says:
"I 100% ripped the chords out of this song from Jason Molina's 'Almost Was Good Enough'. When I wrote it, I had just finished reading his biography 'Riding With the Ghost' which has a ton of information on Molina's music and by extension Secretly's debut I thought channeling his music for our contribution to SC25 would be appropriate!
The lyrics are inspired by the novel "Feast of Snakes" by Harry Crews. Much of the darkness in this book recalls Molina's words. We wanted to keep the instrumentation pretty sparse and creepy, so it's just me on vocals and guitar and Xandy on steel and banjo."
to listen Cassandra Jenkins' "Pygmalion", recorded live at Abbey Road Studios by the singular New York based artist and songwriter, backed by members of Glasgow band Lylo. Drawing inspiration from Greek mythology, Jenkins says:
"The lyrics of this song revisit the story of Pygmalion, the Greek mythological figure who, contemptuous of women, falls in love with an ivory statue of his own making. When the sculpture comes to life, they live happily ever after. Through the lens of today , we could see this as the story of an incel who falls in love with his ivory sex doll, and has no trace of the female voice. I wanted to give the statue a chance to speak and speak directly to Pygmalion as he begins to carve his likeness to his vision.
The result is short and bittersweet, partly expressing menace, sarcasm and exhaustion, and partly lucidity. I wrote it at a time when I was frustrated with a relationship, and recorded it while I was on tour (at Abbey Road studios). I was thinking how easy it is to lock ourselves into molds and impose our solipsistic ideals on others, only to be disappointed when they show their true character. In this equation, everyone is missing out, and there is so much more to be gained by burning old ideals. This song is about hitting the game."
The last two SC25 Single starting Wednesday and Cassandra Jenkins mark the 21st and 22nd episodes of the series' planned 25 releases. Previous editions include Phoebe Bridgers "Chinese Satellite" (live from Sound City)plus new songs, covers and collaborations from Secretly Canadian signers such as Current joys, Hatching, boiled radio, Skull Crusherand Stella Donnellyfriends like strange Bartes, Sparkling eyes, goose, jim james, Madison McFerrin and Tachaand more that serves as a time capsule of the indelible taste of Secretly Canadian, connecting its past and present to a newly imagined future.
Explore all SC25 Single here:
https://ffm.bio/sc25
Other SC25 initiatives include a nearly depleted collection of classic album reissues (SC25 Editions), a limited-edition backpack made in partnership with Topo Drawingsthe brand new secret society podcast and Secret Frequenciesplaylists, plus additional efforts and activations to be announced soon.
Follow Secretly Canadian
SC25
Official site
Facebook
instagram
Spotify
Apple Music
Wednesday – Tour Dates
4/6 – Athens, Georgia – Flicker Theater
4/7 – Birmingham, AL – Fire Station
4/9 – Houston, TX – Satellite
4/10 – Austin, TX – Emos ^
4/11 – Dallas, TX – Studio at Factory ^
4/13 – Mesa, AZ – The Nile ^
4/14 – Tucson, AZ – Earthworks
4/17 – San Diego, CA – Soda Bar
4/19 – Los Angeles, CA – The Echo
4/20 – San Francisco, CA – Down Hill
4/22 – Sacramento, CA – The Starlet Room
4/23 – Redding, CA – The Diving
4/24 – Reno, NV – The Holland Project
04/26 – Oakland, CA – The Fox ^
4/28 – Seattle, WA – Showbox Market ^
4/29 – Portland, OR – Roseland ^
5/2 – Denver, CO – Ogden Theater ^
5/4 – Omaha, NE – The Waiting Room ^
5/5 – Minneapolis, MN – First Avenue ^
5/6 – Kansas City, MO – Grenada ^
5/7 – Indianapolis, IN – Hi Fi Annex ^
5/9 – Albany, NY – Empire Live ^
5/10 – Burlington, VT – Higher Ground ^
5/12 – Boston, MA – Home of the Boston Blues ^
5/13 – Brooklyn, NY – Brooklyn Steel ^
5/14 – Brooklyn, NY – Brooklyn Steel ^
5/15 – Washington, DC – 9:30 a.m. Club^
5/17 – Baltimore, MD – Soundstage ^
5/18 – Philadelphia, Pennsylvania – The Fillmore ^
5/20 – Asheville, NC – Orange Peel ^
5/21 – Carrboro, NC – Cat's Cradle ^
5/22 – Atlanta, GA – The East ^
5/24 – Nashville, TN – Brooklyn Bowl ^
5/25 – Louisville, KY – Headliners ^
5/27 – Toronto, ON – Danforth Music Hall ^
^ with beach bunny
Cassandra Jenkins – Tour Dates
3/26 – Knoxville, TN – Big Ears Festival 2022
4/01 – New York, NY – Webster Hall ^
4/02 – Westerly, RI – United Theater ^
4/03 – Boston, MA – Paradise Rock Club ^
6/10 – Hilvarenbeek, Netherlands – Best Kept Secret Festival 202
8/18 – Newport, UK – Brecon Beacons
8/26 – London, UK – All Points East Festival 2022
9/01 – Salisbury, UK – End of the Road Festival
9/28 – Sonoma, CA – Gundlach Bundschu Vineyard*
9/29 – San Francisco, CA – The Fillmore*
10/01 – Los Angeles, CA – The Belasco Theater *
03/10 – Tucson, AZ – 191 Toole*
05/10 – Santa Fe, New Mexico – Meow Wolf*
10/10 – Oklahoma City, Oklahoma – Beer City Music Hall*
10/11 – St. Louis, MO – Off Broadway*
10/12 – Bloomington, IN – Buskirk-Chumley Theater*
10/14 – Memphis, TN – The Bluff*
10/15 – Nashville, TN – East Basement*
10/16 – Atlanta, Georgia – West Terminal*
10/18 – Jacksonville, Fla. – Intuition Ale Works*
10/20 – Asheville, North Carolina – Orange peel skin*
10/21 – Durham, North Carolina – Motorco Music Hall*
^ support Andy Shauf
* support Kevin Morby