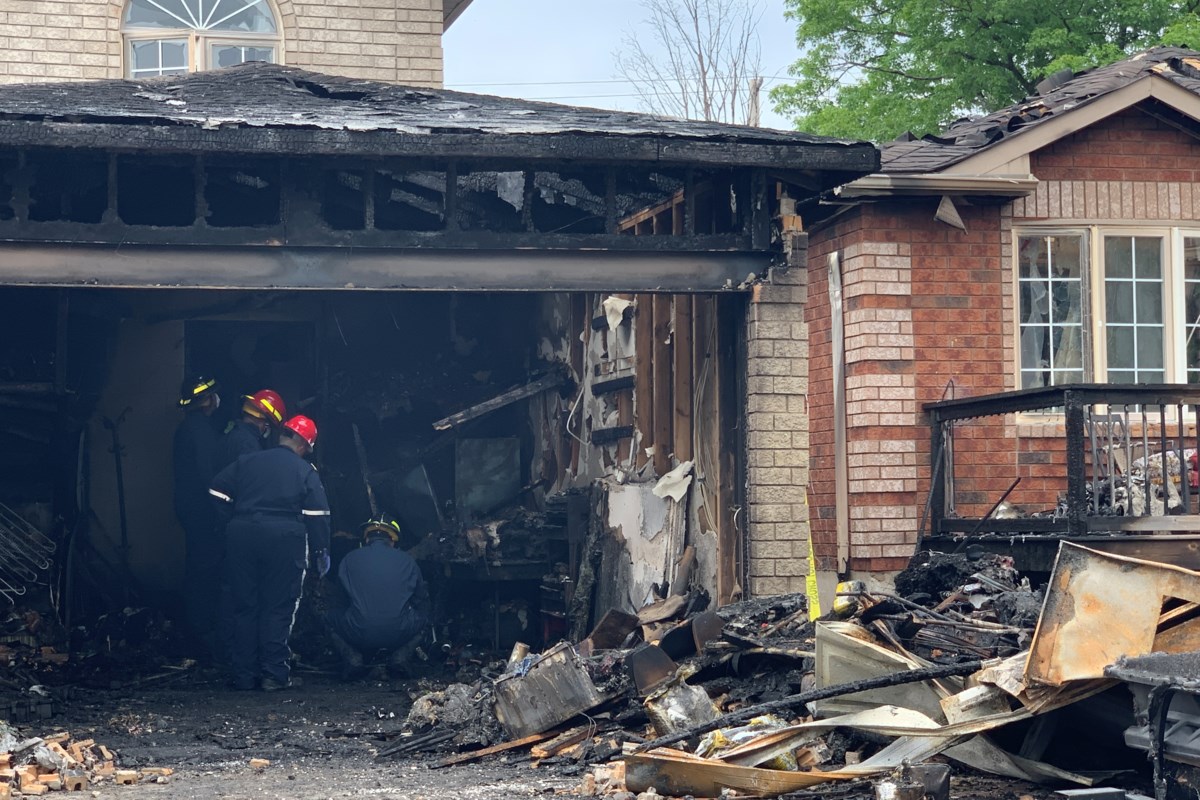 Barrie family left in shock after house fire (5 photos)
'We have nothing. It was all in the house,' says owner of one of the Masters Drive homes damaged by Sunday's fire that swept through two houses
The day after his home was gutted by fire, Cesar Melow stands across the street and watches in a daze as fire investigators dig through the charred rubble of what was once his garage.
Melow and her family have lived for nine years in the Masters Drive house, which overlooks St. Vincent Street near Hanmer Road. Reeling from the blaze, he said he was grateful no one was hurt in the blaze, which started in his garage and quickly spread to the roof of a nearby house.
His wife and teenage son were at home when the fire broke out, he said, but were able to get out safely. No one was inside the second home at the time of the fire, which broke out shortly before 4 p.m. on Sunday.
"I was on the bike for a ride, and she was home with my second son," Melow said, adding shortly before the fire broke out, his wife and son reportedly started to smell. burnt plastic.
"It started in our garage and I guess it spread everywhere. I guess the wind was blowing towards the neighbor's house and… it went from roof to roof. I'm just glad everyone be fine," he said.
Mellow said BarrieToday he was told it could be between nine months and a year before the family can return to their northern home, which has suffered extensive smoke and water damage inside.
"From what we can see, from a meter and more, everything is black; the walls are collapsing, the basement is flooded. All the frames just melted off the wall from the intense heat," he said. "We haven't been upstairs, but we heard that due to the intense heat, it was probably the worst."
The family plans to stay in their trailer in Wasaga Beach while they look for a house to rent, he said BarrieToday.
"Instead of having hotel rooms, it's our comfort zone. We have food there and so we are there for now until we can rent a house – something big enough for the family," he said, adding that they were all still trying to come to terms with what had happened.
"It wasn't until we got back to the trailer and sat down that it all started to work out what had really happened," he said, adding that his 11-year-old daughter appears to have been the hardest hit by the fire. "She called me this morning to ask if I could pick up her doll."
Although they have a place to stay for now, the family of five have lost everything, he admitted.
" We have nothing. Everything was in the house," he said, adding that he had already contacted their insurance company as they will need to buy clothes and other personal items.
Melow's parents had also stayed with them while they waited to move into their new home at the end of the month – and the majority of their belongings, which had been locked in the garage, were destroyed.
As he struggles to figure out how they will start moving forward, Melow said BarrieToday he is grateful for the support they have received from friends and neighbours.
"Everyone has been super nice, giving us a place to stay…and different ways to help out. I'm very grateful."
Deputy Fire Chief Carrie Clark, who was at the Masters Drive home on Monday, said BarrieToday Fire investigators were still digging through the damage to try to determine the cause of the fire, adding that they hoped to be able to hand the house over to insurers later in the day on Monday July 4.